Properly decorating a meeting room is essential for the success of your business. He thinks that in this room important decisions are made for the company, new projects are proposed, different proposals are discussed and it is the place where both managers, clients, suppliers or the workers' team pass. Therefore, the meeting room must convey an image of seriousness and professionalism and at the same time reflect the personality of the company.
Likewise, customers and employees, partners, managers or suppliers should feel comfortable in an environment that transmits well-being and tranquility and stand up to creativity, the generation of ideas and trust.
To achieve relaxed stays, there are certain aspects that play a decisive role, such as furniture, lighting, the choice of colors and materials and decorative elements. Here are some keys to getting your meeting room to guide you to the success of your business:
Furniture for meeting room
The furniture in the meeting room has to be comfortable and sober while appealing to make a good impression.
The table should be large to allow people to be distributed comfortably; It can be round or rectangular. We can choose a white table or clear tones, such as the Copenhagen design table. In addition, the white and matt tones of some elements of the furniture contribute to multiply the luminosity of this area.
The chairs have to be comfortable, ergonomic and preferably have wheels for their practicality and functionality – we will avoid scratching the floor. Betting on comfort and design for an element as important as the chairs for meeting rooms. And always make sure there are enough chairs for all your visits!
On the other hand, not always the meetings that take place in this room have to be strictly formal. In some organizations the meetings can be more relaxed and friendly and in this new environment, the low tables combined with poufs and sofas or even auxiliary furniture can be part of a place designed for meetings that promote productivity and well-being. A change in the conception of work spaces, which includes flexible furniture adapted to new forms of work in companies.
Lighting for meeting room
Another aspect to consider in the meeting room is lighting. And it is that light plays a very important role to create comfortable, warm and relaxed environments.
Natural light, according to experts, is not enough to work properly, so we must have spot lighting such as floor lamps and spotlights and ceiling lamps.
We can choose a floor lamp that does its decorative function, such as the spectacular Arco lamp, made with marble structure and rectangular steel tube, or the Twiggy lamp, inspired by the lamp of the same name and made of carbon steel. , aluminum and fiber tube.
If we do not have too much space and we do not want the floor lamp to have an excess of prominence in the meeting room, we can opt for something more discreet, such as the Jason lamp, inspired by the famous Jazz lamp, made of fiberglass and with intensity regulator.
The Ball Silver lamp   is an excellent choice to illuminate the meeting table concentrating attention on this part of the room, like the Cony lamp, inspired by the famous Stilnovo Spunik Lamp, a basic decorative accessory that adapts to any decorative style.
You can combine decorative originality with the combination of several lighting elements for your meeting room: floor lamps combined with wall lamps with clear industrial influence. A result that brings warmth and a certain intimacy to this room.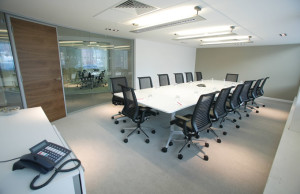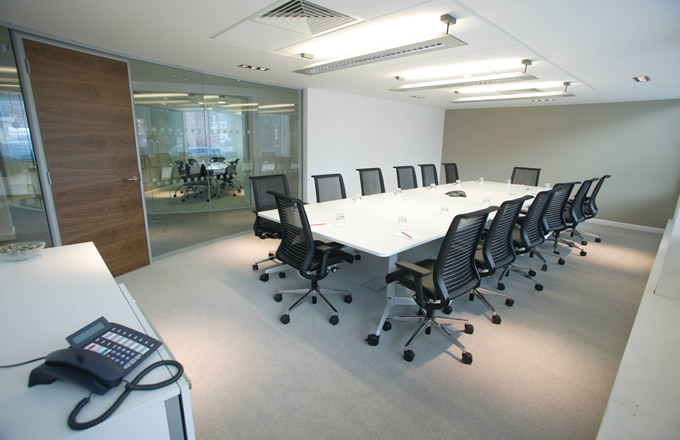 Decorative objects for meeting room
In order to convey a sense of seriousness but warmth at the same time, we can use some decorative objects for our meeting room. Ideally, do not overload the room and bet on simple decorative elements, avoiding too personal details.
We can decorate the walls of the meeting room with designer clocks, paintings, company photographs, recognitions, or even decorate with plants to give a natural touch to this space. We can also reserve a corner for a coat rack, for the staff to leave their belongings.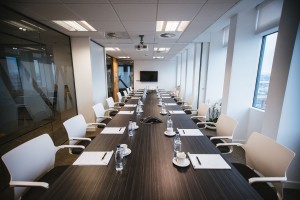 Color of the walls of the meeting room
If we want our meeting room to look broad and organized, white is undoubtedly the most suitable color for the walls. However, if we want to give a fun touch to this environment, we can paint one of the colored walls and break with the monotony of white. We can also opt for decorative vinyl, such as quotations, graphics, texts, notepads or maps of the world.