OFFICE DESIGN: BUSINESS CANTEENS
We return another month with the post of renders and office design projects. On this occasion, our designer will explain how a decoration project was created to create a company dining room.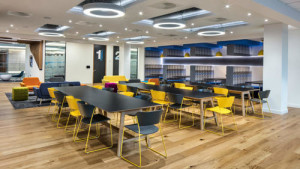 The company canteens are relaxation and relaxation areas, which nevertheless need to be very well designed so that their design does not make its users invest in them more time than desired. These are the areas that we are dealing with on this occasion and of which we are going to show you examples that we have prepared for our clients.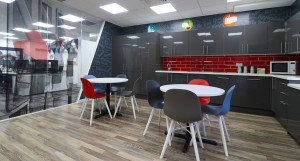 These places, which are not strictly dedicated to work, do directly influence the operation and comfort of an office. Therefore, we treat them with the same importance that we give to other areas of communities. This often makes them morphological similar to these, although the function is completely different. Hence, their peculiarities make us consider them an independent typology, which makes us contemplate the following aspects:
Ergonomics is not at odds with agility. That is, even if they are places where you usually spend as little time as possible, they should not be uncomfortable or less pleasant, but rather the opposite, since their function of disconnection and relaxation is as necessary as those of other concentration zones. and efficiency
In order to achieve this, we can talk about more informal lines, more intense colors and more daring proposals than is generally available for places more destined for the work itself.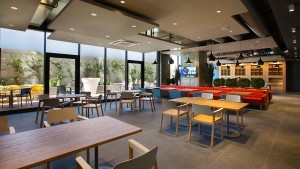 When we face this part of the company we establish hygiene as a fundamental requirement, and that is why we opt for materials that stain as little as possible and resist constant cleaning, as well as the continued use of many people
Every company needs to dedicate time and resources so that the design of its dining room is efficient, allowing, according to the case, the rotation of several shifts of people, or grouping the entire workforce in a single shift, for which the underlying project will have Consider the needs and possibilities of the client.
In addition to a wide range of tables and chairs, we offer the client kitchen-office furniture, as well as the necessary appliances. Once again, we have the right solution for your needs and all the will to help you find them. Do not hesitate to contact us.