Raised Flooring Installation Vadodara, Gujarat
This Raised Flooring is easy to install and are convenient for both dismantling and assembling. This Raised Flooring is applauded for their amazing finish & unique features as compared to other false floorings present in the market. This Raised Flooring is mostly commended among our customers & available at affordable rates.
Features:
Fire proof
Widely used in computer rooms
Fast and accurate installation
Excellent anti-static performance
Can eliminate the static electricity produced by the computers when they are working
The stability of the computer will be maintained. Thus the life span of the computers will be prolonged
System is Lay In system, It will greatly facilitate the whole installation
Easy to remove & re-fix since corners are not screwed to the pedestal head fix
Tiles are supported in all the four sides since our system is stringer based which do not undulate / bend at the sides
Special weather coating on back surface of the tiles
The panel sizes are controlled with great precision, which assures the free interchange of the panels
With convenient wire layout and various outlet boxes, the system can optimize the cabling in computer rooms.
Eco-friendly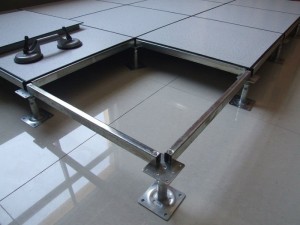 A raised floor is a data center construction model in which a slightly higher floor is constructed above the building's original concrete slab floor, leaving the open space created between the two for wiring or cooling infrastructure.
A raised floor frame must be designed to accommodate the anticipated load of data center equipment. Although the raised floor model was once the standard way to deliver power and provide connectivity, newer design models move cabling overhead and use the space beneath the raised floor for water-cooling pipes or air flow for hot aisle/cold aisle cooling systems.
Where is a raised access floor used?
Raised access flooring is used today in a wide range of situations where there is a significant level of building services. Examples include:
.  Financial and Insurance offices where there is a need for a significant level of computer/telecom equipment.
.  National and Local Government offices, again there is a need for a significant level of computer/telecom equipment.
.  General administration buildings across the complete range of industries where the use of computer/telecom equipment is widespread.
.  Call Centers. Office environments set up to handle large-scale customer enquires thereby requiring significant levels of computer/telecom equipment.
.  Data processing centers. Large scale computer rooms set up for the processing of electronic data e.g. customer information, financial information.
.  Telecom switch centers. Old mechanical telephone exchanges now replaced by electronic switch facilities. Also new mobile technology requires new electronic switch facilities.
.  Distribution centers. These facilities distribute a vast range of fast moving consumer goods with order processing and such activities handled in a modern office environment.
.  Educational facilities. Raised flooring used in specific learning areas in schools, universities etc. Also used in library and major archive areas.